Tact Switch (6 x 6) Standard
Positive tactile feedback SPST Switches.
Silver plated..
Operating life 100K, 500K & 1 million cycles.
4 Pin layout can be used as jumper leads.
Operating force: 100, 130, 160 and 250gf
Application: Electronic energy meters, Air conditioner control units, electronic instruments, reset switch, modem switch, UPS, inverters, Temperature controllers, membrane switch panels.
Standard 6x6mm tact switch is available in various heights.
The height mentioned 4.3mm, 5.00mm etc. is overall height from base of PCB to the top, kindly refer data sheet and table as below.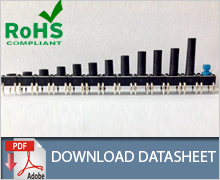 Standard 6x6mm tact switch
Part code
60-2S2A
60-2S2B
60-2S2M
60-2S2C
60-2S2D
60-2S2I
60-2S2E
60-2S2K
60-2S2F
60-2S2J
60-2S2G
60-2S2H
60-2S2T
L= Overall height
(mm)
4.3
5
6
7
8
8.5
9.5
11
12.5
13
13.5
17
7.3
6x6mm Vertical (Right angle) tact switch is available in various lengths.
L = length in mm is as per data sheet and below table.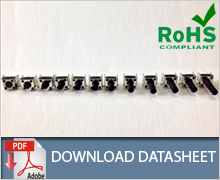 Right angle Vertical 6x6mm Tact switch
Part code
60-2V2A
60-2V2B
60-2V2M
60-2V2C
60-2V2D
60-2V2I
60-2V2E
60-2V2K
60-2V2F
60-2V2J
60-2V2G
60-2V2H
60-2V2T
L= Overall height


(mm)
3.15
3.85
4.85
5.85
6.85
7.35
8.35
9.85
11.35
11.85
12.35
15.85
6.15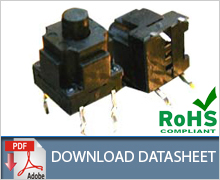 Water Proof tact switch
Water Depth : 10cm
Time : 240 hours
Rating : 50mA x 12V DC
Operating Life : 100,000 cycles
Send Enquiry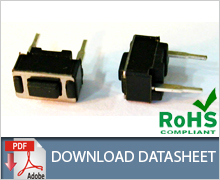 3.5 x 6mm Tact Switch
3.5 x 6mm tact switch
Small 2 pin tact switch
4.3mm and 5.00mm heights, radial or standard leads refer data sheet
Rating : 50mA x 12V DC
Operating Life : 25000 cycles
Send Enquiry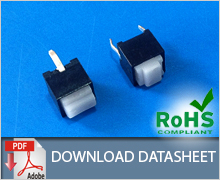 Tact Switch Soft feel long travel
Silicon rubber soft feel tact switch with carbon contact
No sound tact switch with soft feel
Long travel tact switch, 1mm operating travel
Rating : 5mA x 12V DC
Operating Life : 100000 cycles
Part code: 60-2C1A
Send Enquiry
About Us
A well established name in electronic industry, We are one of India's leading manufacturer and exporter of electro-mechanical switches, modular jacks, connectors and ADSL splitters. An ISO 9001:2008 by TUV certified company having over 35 years experience in design, tooling and bulk production of switches and connectors. Custom designs and inquiries are welcome. All products match upto international standards and its a testimony to our persistent devotion to quality and customer satisfaction. MEHTA SWITCH is known by professionals in electronic field for quality and high reliability. We are fully equipped with in house facilities for mass production of precision plastic injection moulded parts, sheet metal stamped parts and assemblies.
Click here for online business query
Contact us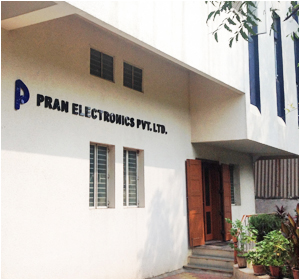 Scroll